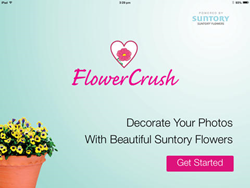 Tokyo, Japan (PRWEB) September 30, 2014
A new app for the iPad created by Suntory Flowers lets users get creative in the garden without getting their hands dirty.
The Flower Crush app enables people to ?test drive? dozens of flowers and color combinations offered from Suntory Flowers and see how they look on their own patio, in containers or in their garden.
According to Delilah Onofrey of Suntory Flowers, the new app gives users access to hundreds of professional images they can use to ?decorate? a photo of their own porch, balcony or backyard. The image can be refreshed and redecorated until just the right look is achieved.
"We want Flower Crush to free people?s creativity,? says Delilah Onofrey who represents Suntory Flowers in North America.
?It?s easy to create new designs when you know what kind of plants you want and what works together. This takes the guess work out of what flowers go well together and how many to buy, making the trip to the garden center quicker and easier,? adds Onofrey.
The app is simple to use. Take a picture or upload one from the iPad. Then enhance it with stunning photos, save and share on social media.
Fun and Functional
The real joy of Flower Crush is that it's fun.
Take a "selfie" with a BFF, pull it into Flower Crush, and add flowers to hairdos or design a floral border.

The app also designs greeting and thank-you cards that users can personalize with a floral touch.
When "virtual gardeners" finish creating their masterpieces, Flower Crush lets them save or share these new designs with family and friends.
Container Design
Flower Crush also features an updated Suntory Virtual Combo Designer tool (also available as a separate app).
This feature allows users to create flower combinations with Suntory's many plant varieties and place them within different containers – like classic urns, and hanging baskets and mod-looking zinc planters.
These containers can be uploaded into the Flower Crush photo as design elements for patios, porches or within landscape beds.
"Including the Virtual Combo Designer tool within the Flower Crush app gives the user the full range of flower gardening possibilities," says Onofrey. ?It?s the feature I find the most fun to explore. No green thumbs needed."
The Flower Crush app is available as a free download from the Apple iTunes Store here: https://itunes.apple.com/us/app/flower-crush/id874842301?mt=8. To learn more about Suntory